KDH series high temperature is installedwith built-in after cooler and Independent fan, which allow maximum inlettemperaure up to 80℃ without affecting the dew point.
Eco-friendly refrigerant compressor
Each KDH air dryer is equipped with R407C orR134a refrigerant compressor. Scroll compressor offering energy savings of 20-30% when compared with piston compressors. The ability to tolerate liquidreturns coupled with 50% less moving parts render them nearly indestructibleand highly reliable.
Hot-gas by-pass valve
Each model of KDL air dryer is installedwith hot-gas by-pass valve which prevents the freezing inside the evaporator atany load condition. The valve is set during final test and no furtheradjustments are necessary.
Electrical control panel
On/Off switch, Power On light,compressor runlight and Refrigerant Suction gauge are standard on all refrigerated air dryers.
Analog gauges can be added in anycombination to monitor inlet and outlet pressure and inlet and outlet air temperature.
Digital dew point controller is optional for150F and above.
Operating condition

| | |
| --- | --- |
| Nominal ambient temperature: | 35°C |
| Max inlet air temperature | 80°C |
| Normal inlet air pressure | 7 barg |
| Pressure dew point: | 2-10°C |
| Maximum ambient temperature: | 42°C |
| Max working pressure | 14barg |
| | |
Comprehensive presentation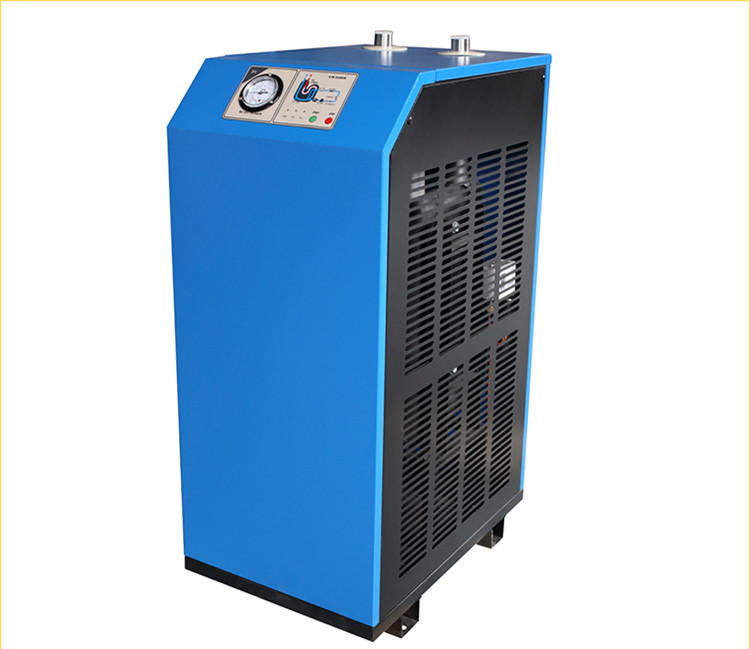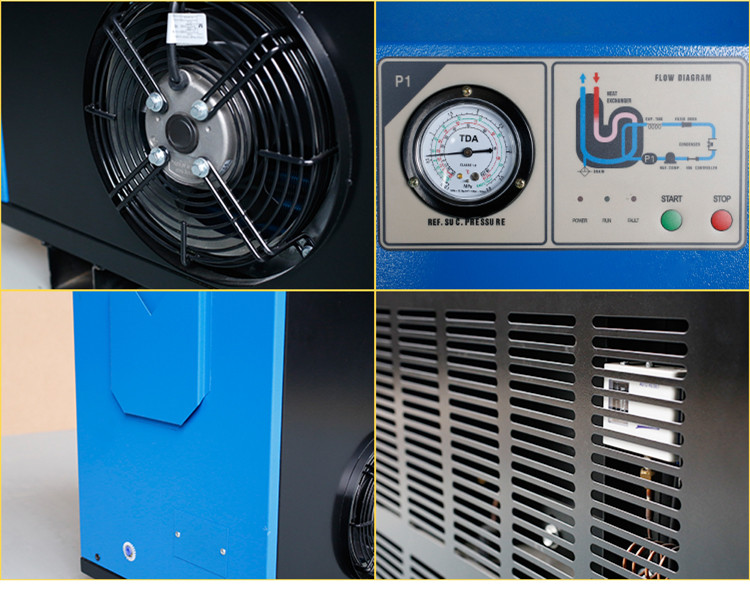 Specifications

Model
Flow Capacity
Power Cons.(kw)
Conn.
Dimensions
Weight
m3/min
m3/h
CFM
(BSP)
L (mm)
W(mm)
H (mm)
(kg)
KDH-10F
1.6
96
56
0.53
1"
500
415
880
50
KDH-20F
2.6
156
92
0.95
1"
630
450
1010
55
KDH-30F
3.8
228
134
1.16
1"
630
450
1010
60
KDH-50F
6
360
212
1.65
1 1/2"
770
530
1070
70
KDH-60F
7
420
247
1.65
1 1/2"
820
530
1070
85
KDH-75F
8.5
510
300
1.8
1 1/2"
870
580
1180
110
KDH-100F
11.5
690
406
2.3
2"
1180
580
1190
150
KDH-120F
13.5
810
476
2.52
2"
1250
730
1230
190