2% air loss Blower Purge Desiccant Compressed Air Dryer
Descriptions
KXB series Blower purge desiccant compressed air dryer uses air blower and external electrical heater to produce purge air for desiccant regeneration.
The blower intakes atmospheric air flow through the heater, then through the desiccant media thereby regenerating it. With this design, no dried compressed air is consumed for regeneration, which maximizes the amount delivered to the air system. Blower heater Air Dryer is usually suitable for large flow from 23 -510m3/min ,outlet air pressure dew point is -40°C.
Standard Features
High Performance pneumatic Valves
Oil-less pneumatic valves are designed specifically for high temperature applications and feature stainless steel internals and filled PTFE seats.
High Efficiency Centrifugal Blower
Reliable, quiet generation of purge air. Intake filter is positioned for convenient access to
facilitate filter element changeout.
Advanced PLC controller
PLC Controlling system executes and monitors all dryer functions, 7'' Touch screen panel displays dryer status.
Dew Point Display
Highly accurate ceramic dew point sensor and high dew point alarm.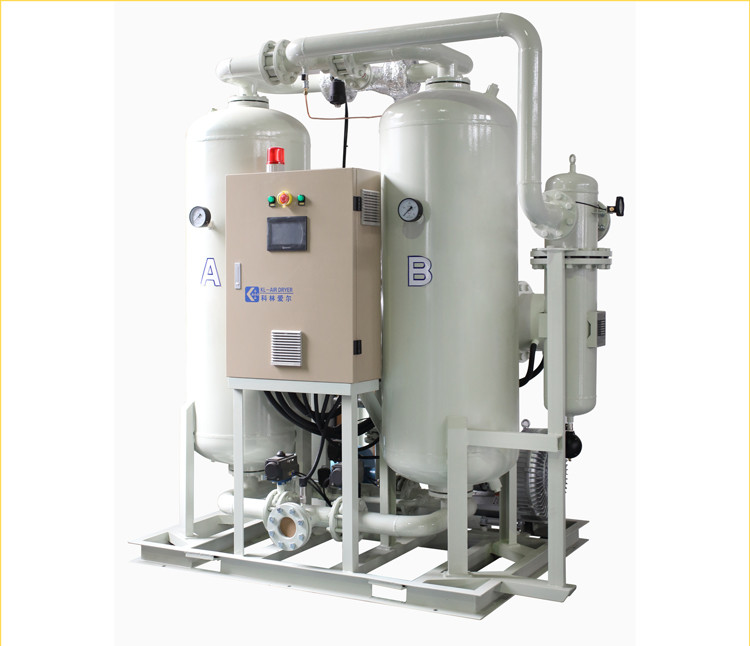 Specifications

Model
Flow Capacity
Heater (kw)
Blower
Inlet/outlet Connection
Dimensions
Weight
m3/min
CFM
(kw)
L(mm)
W(mm)
H(mm)
(kg)
KXB-200
23
812
15
3.3
DN80
1560
1630
2780
1380
KXB-250
27
953
18
4.2
DN80
1870
1830
2880
1720
KXB-300
34
1200
24
5.5
DN80
2090
1990
3070
2060
KXB-400
45
1588
32.4
7.2
DN100
2530
2180
2920
2750
KXB-500
55
1941
42
8.8
DN100
2750
2390
3100
3430
KXB-600
65
2294
48
10.8
DN125
2920
2510
3080
4120
KXB-800
87
3071
64.8
13.8
DN150
3040
2780
3120
5500
KXB-1000
110
3883
81
17.5
DN150
3210
2920
3200
6300
KXB-1200
130
4589
95.4
20.8
DN150
3380
3080
3280
7810