KXR- Series Heatled Desiccant air Dryer(0.7-510m3/min)


Descriptions
KXR Series heated adsorption air dryer includes an external electrical heater to heat dry purge air for desiccant regeneration. Heating allows the dryers to consume only 6% of the dried compressed air volume for this purpose – significantly less than is required for heatless air dryers. The flow capacity is available from 0.7 to 510m3/min,the outlet pressure dew point is - 40 deg c .
Features
High Performance pneumatic Valves
Oil-less pneumatic valves are designed specifically for high temperature applications and feature stainless steel internals and filled PTFE seats.
Pressure Gauges
Stainless steel gauges, located on each tower, provide visual indication of pressure during drying and regeneration processes.
Comprehensive presentation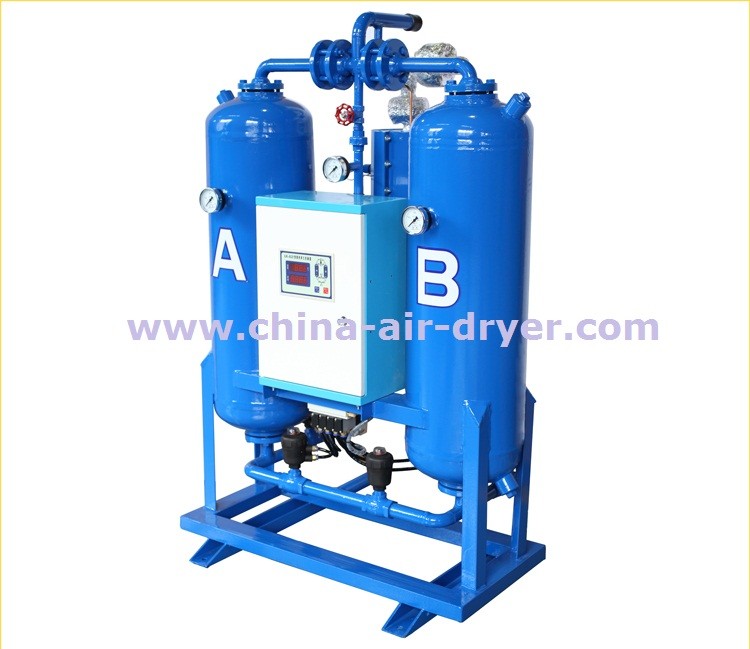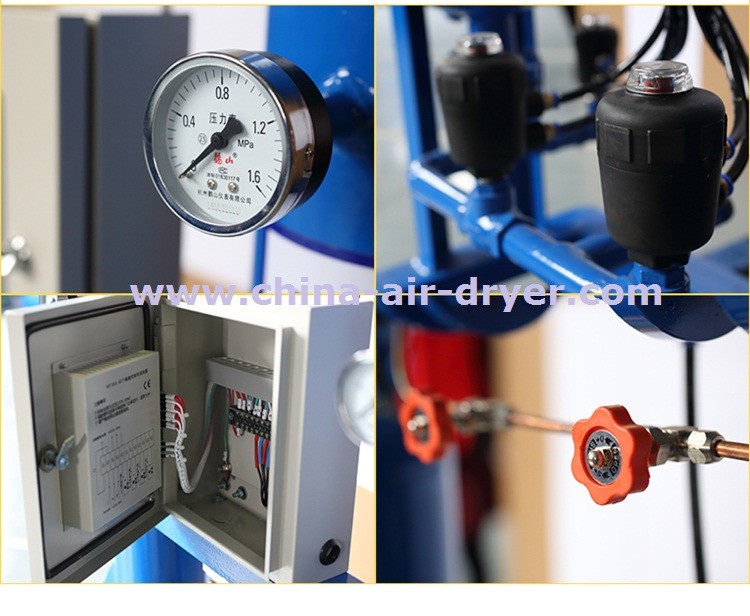 Specifications

Model
Flow Capacity
Heater
Dimensions
Inlet/outlet Connection
Weight
m3/min
CFM
kw
L(mm)
W(mm)
H(mm)
BSP
(kg)
KXR-5
0.7
25
0.9
690
500
915
1/2"
120
KXR-10
1.6
56
0.9
690
500
1298
1"
190
KXR-20
2.6
92
1.5
780
500
1324
1"
280
KXR-30
3.8
134
1.5
860
540
1350
1"
320
KXR-60
7
247
2.4
1010
700
1558
1 1/2"
480
KXR-75
8.5
300
2.4
1010
700
1785
1 1/2"
540
KXR-100
11.5
406
4.5
1240
800
2232
2"
650
KXR-120
13
476
4.5
1240
800
2232
2"
690
KXR-150
17
600
5.4
1280
860
2360
DN65
780
KXR-200
23
812
7.5
1320
860
2477
DN65
920
KXR-250
27
953
9
1700
930
2570
DN65
1050
KXR-300
34
1200
10.8
1750
960
2626
DN80
1200
KXR-400
45
1588
15
1850
1060
2646
DN100
1530
KXR-500
55
1941
18
1850
1060
2646
DN100
1750
KXR-600
65
2294
22.5
2160
1240
2784
DN125
2230
KXR-800
87
3071
28.8
2416
1440
2827
DN150
2710
KXR-1000
110
3883
37.5
2980
2120
2990
DN150
4130
KXR-1200
130
4589
45
3080
2220
3030
DN150
4700
KXR-1500
160
5648
56
3180
2320
3316
DN200
5800
KXR-2000
210
7413
72
3380
2520
3360
DN200
7370
KXR-2500
260
9178
90
3580
2720
3596
DN250
9020
KXR-3000
320
10943
112.5
3580
2970
3606
DN250
11900
KXR-3500
360
12708
124.8
3720
3220
3720
DN300
13100
KXR-4000
410
14473
145.8
3910
3370
3910
DN300
14800
KXR-5000
510
18003
170
4200
3600
4200
DN350
16000